WELCOME BONUS
Get $25 of SOMA Free
Complete your onboarding and take part in the SOMA public sale to receive $25 worth of $SOMA for free!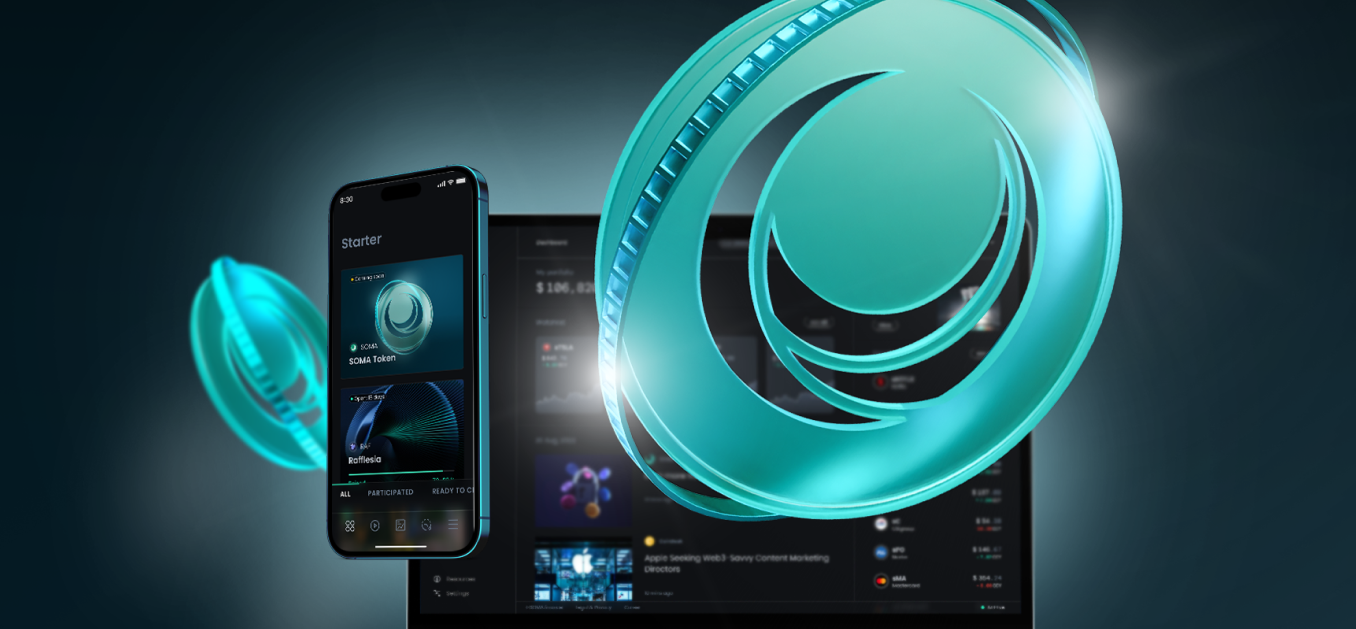 What is $SOMA?
The SOMA token is the first fully compliant, legally structured token with tangible benefits. As the token is a digital equity, holders of this token will be eligible to receive rewards not usually available to crypto token holders, including:
Actual financial interest in the SOMA company at a corporate level.
A right to a dividend of up to 10% of SOMA's profits.
Opportunities to earn passive income by staking the token.
The chance to earn additional SOMA tokens and stablecoin rewards through yield farming.
You can read more about the benefits of the SOMA token here.
The token will be listed as a regulation crowdfunding (Reg CF) issuance on the SOMA.finance platform. Learn about what this means here.
How to get your free gift of $25
Fill out and submit your onboarding form. You'll receive an email notifying you once you've been approved.
Sign up
2
Participate in the public sale
Take part in the public sale by purchasing a minimum of $100 of SOMA token. You'll be credited another $25 worth of SOMA for free.
Once the public sale has been completed, you'll be able to claim your tokens along with your welcome bonus.
Terms & Conditions:
The Welcome Bonus of $25 in SOMA ("Bonus") is available to new users who sign up for an account on SOMA.finance ("Platform") and are verified during the promotional period.
Only individuals who meet the eligibility criteria, as outlined in the Platform's general terms and conditions, are eligible to receive the Bonus.
To participate, users must have a verified account on SOMA.finance and participate in the SOMA token launch by contributing a minimum of $100 (minimum purchase amount).
The promotion applies to the first tranche of the SOMA token public sale only. Any user that participates in tranche 1 of the SOMA.finance public sale are eligible for the $25 SOMA token bonus.
SOMA.finance reserves the right to modify or terminate the promotion at any time without prior notice.
Users must complete the registration process and provide accurate and verifiable information as required.
The $25 SOMA gift will be made available to users when they claim their tokens upon the completion of the public sale.
SOMA.finance reserves the right to disqualify users who violate the Platform's terms and conditions or engage in fraudulent activities.
SOMA.finance may request additional information or documentation to verify eligibility or prevent fraudulent activities.
SOMA.finance's decisions regarding the eligibility for the Bonus and any disputes arising from this promotion are final and binding.
SOMA.finance reserves the right, at its sole discretion, to substitute the Welcome Bonus or any part thereof with an alternative of equal value or comparable features.
If, for any reason, the original gift becomes unavailable or impractical to provide, SOMA.finance may, at its discretion, replace it with a substitute of equal value or similar benefits.
The decision to exchange the gift will be communicated to the user, and the substitute gift will be provided promptly and fairly.
Users shall have no claim or entitlement to the original gift if it is exchanged for a substitute of equal value or comparable features.
By participating in this promotion, users agree to accept and comply with these terms and conditions and the Platform's general terms and conditions.
If you have already completed your onboarding, you will be eligible to receive the $25 Welcome Bonus upon completion of your purchase of the minimum required amount in the public sale.
Sign up
IMPORTANT INFORMATION
This material is intended to be of general interest only and should not be construed as individual investment advice or a recommendation or solicitation to buy, sell or hold any security or to adopt any investment strategy. It does not constitute legal or tax advice. The views expressed are those of the author and the comments, opinions and analyses are rendered as of the publication date and may change without notice. There is no guarantee that any forecasts or predictions made will come to pass. The information provided in this material is not intended as a complete analysis of all material facts or circumstances regarding any country, region or market. All investments involve risks, including possible loss of principal.‍Risk management does not imply elimination of risks, and not all investments are suitable for all investors.The information and opinions contained in this material are derived from proprietary and non-proprietary sources deemed by SOMA.finance to be reliable, are not necessarily all inclusive and are not guaranteed as to accuracy. Data from third party sources has not independently verified, validated or audited. SOMA.finance accepts no liability whatsoever for any loss arising from use of this information; reliance upon the comments, opinions and analyses in the material is at the sole discretion of the user. ​Any products, services and information in this material may not be available in all jurisdictions and are offered local laws and regulation permit. Please consult your own financial professional or legal advisor for further information on availability of products and services in your jurisdiction. Please also see the disclaimer which is found at the bottom of this website under the heading "Important Disclosures".